Recently, the Baoding "Easy Line" oil, gas and hydrogen integrated energy service station undertaken by Enric (Langfang) Energy Equipment Integration Co., Ltd. (Langfang Integration), a member company of CIMC ENRIC, was successfully completed. This project is the first "oil, gas, and hydrogen" joint construction station in Hebei Province. It will serve the infrastructure construction of the Xiongan New District and supply hydrogenation and integrated energy services for 100 hydrogen energy heavy trucks that transport sand and gravel aggregates which also provide a strong guarantee for the construction of the Xiongan New District and the construction of zero-carbon transportation. Compared with domestic hydrogen refueling stations and similar projects, the refueling scale and comprehensive energy service capabilities of the "easy line" joint construction station are in a leading position.
The "oil, gas, and hydrogen" integrated energy service station put into operation this time is equipped with 12 units of hydrogen storage tanks, 2 units of LNG storage tanks, 2 units of gasoline tanks, and 2 units of diesel tanks; the station is equipped with 2 units of 35MPa hydrogen refueling dispenser and 3 units of LNG refueling dispenser and 3 units of gasoline refueling dispensers to carry out comprehensive refueling capacity of 1,000kg/12h of hydrogen, 30t/d of oil and 24,000Nm³/d of LNG, which can simultaneously meet the refueling and service needs of customers of the three kinds of energy vehicles of oil, gas and hydrogen. .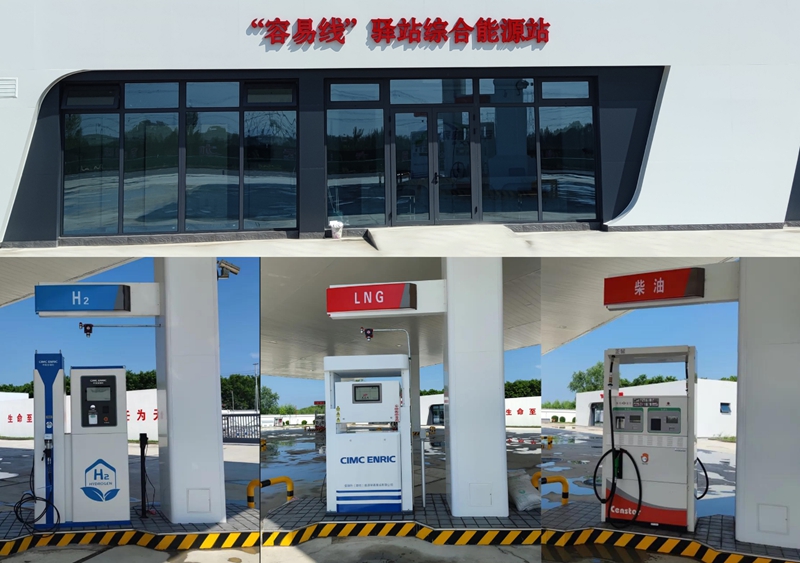 As the only domestic hydrogen energy core equipment manufacturer that can independently manufacture and provide complete set of equipment in hydrogen refueling stations and a leading LNG industry chain equipment manufacturer, this project is are undertaken in the form of EPC general contracting by ENRIC Langfang in accordance with the latest Chinese GB50516-2021 "Technical Standards for Hydrogen Stations"

Among them, the core equipment such as diaphragm compressor, hydrogen storage cylinder group, hydrogen refueling machine, sequence control panel, station control and security system and LNG refueling equipment of the hydrogenation part are all independently manufactured and produced by CIMC ENRIC. Its hydrogen diaphragm compressor adopts a full container skid-mounted design, which is simple to install and easy to maintain, and protects the equipment in normal working environment from the sun and rain; the hydrogen refueling machine is designed and produced in strict accordance with the SAE J2601 standard, and is optimized with quick charging refrigeration system. The system has an average filling speed of up to 2.0Kg/min, which guarantees the cycle life of the vehicle-mounted hydrogen storage bottle and ensuring the filling speed and filling rate of the hydrogen storage bottle as well. The service station maximizes the trailer air discharge rate by optimizing the equipment configuration and control process, which greatly reduces the operating cost of the entire station. The station is also equipped with a 24-hour, all-weather, no dead-angle safety monitoring system covering the entire station, and a "one-key stop" system is set up in all equipment operation areas and working areas to ensure "intrinsic safety" during equipment operation.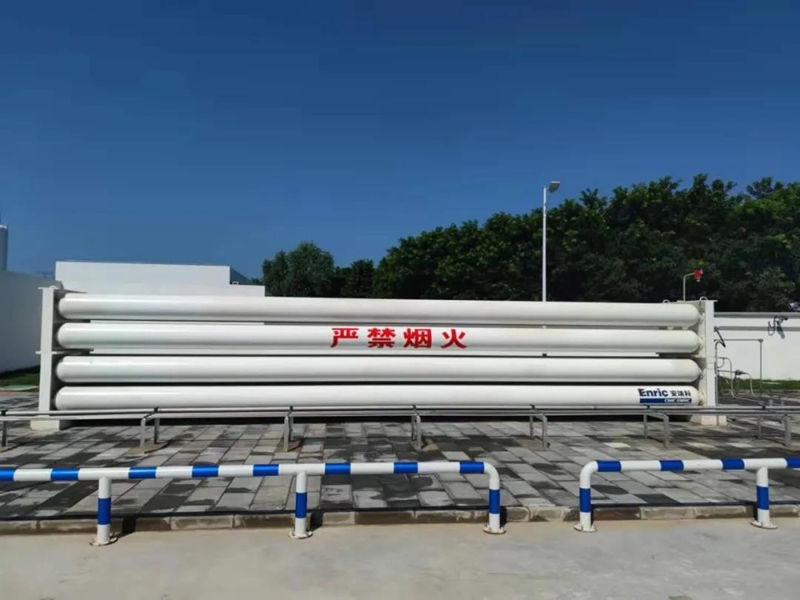 The hydrogen refueling station is an indispensable infrastructure in the development of the hydrogen fuel cell vehicle industry, and it plays an important role in the development of the hydrogen energy industry. Judging from the latest national standards, traditional refueling stations have gradually developed into large-scale facilities with multi-product storage, multi-product sales and comprehensive services. In the future, oil, gas, hydrogen (electricity) integrated energy stations will lead the trend. According to incomplete statistics from the TrendBank, 16 domestic hydrogen refueling stations were put into operation in the first half of 2021, of which 9 were joint construction stations, accounting for 56%. These mixed construction stations included gas-hydrogen joint construction stations and oil-hydrogen joint construction stations. , Electricity, oil, gas and hydrogen integrated energy service station, etc. According to statistics from The Orange Group, by the end of June 2021, China has built a total of 146 hydrogen refueling stations, of which 136 have been put into operation. In terms of hydrogen refueling station projects under construction/planning, the top three who are Shanghai, Guangdong, and Hebei will build 33, 27, and 26 hydrogen refueling stations, respectively.

Mr. Yang Xiaohu, Executive Director and General Manager of CIMC ENRIC, said: "Under the goal of carbon neutrality and carbon peaking, China is vigorously promoting the construction of hydrogen refueling infrastructure to accelerate the large-scale application of hydrogen fuel cell vehicles. The construction of hydrogen stations always faces problems such as high land costs, complicated and slow approval procedures, and post operating costs. However, the "oil, gas, and hydrogen" joint construction stations take advantage of existing refueling station facilities to save land resources and realize resource sharing, easy to promote. At present, Sinopec, ChinaPetro, CNOOC and other oil and gas companies are exploring the use of their own refueling and gas station operating advantages, and expanding hydrogen refueling business through cooperation and mixed construction. As a natural gas and hydrogen energy industry chain equipment manufacturing and Leading project contractor, we have advanced technology equipment and rich project construction experience. The "easy line" joint construction station is the first key demonstration project of Hebei Province's first oil, gas and hydrogen construction station. We show our comprehensive strength to customers with high-quality and efficient results. Looking into the future, we will continue to apply natural gas and hydrogen energy dual tracks to support carbon neutrality, to build more economical, efficient and safe joint construction stations and hydrogen refueling stations for customers, and to create a demonstration benchmark for hydrogen energy and natural gas, to help the implementation of zero-carbon transportation in all aspects.

*Easy line refers to the highway from Rongcheng to Yixian County, with a total length of about 40.5 kilometers, which is mainly used to ensure the supply of building materials in Xiongan New District