CIMC ENRIC LNG Powered Ship Fuel Tank Container
Help Green Development of Inland Waterway Shipping
►Innovate LNG-powered ship fuel replenishment mode
With the wave of China's ship oil-to-gas conversion and the comprehensive promotion of the low-carbon green intelligent ship strategy, it is the general trend and development direction to promote the application of cleaner and more efficient LNG-powered ships to reduce pollution and carbon for inland waterway shipping. The rapid development of LNG-powered ships will directly drive the growing demand for LNG infrastructure construction. However, the traditional marine LNG filling method takes a long time and is inefficient, and the construction and operation of the filling station is difficult, the construction cycle is long, and the number of stations is small, which has become a major problem restricting the promotion and application of LNG-powered ships. Therefore, the development of an LNG fuel supply method with low investment and high efficiency is imminent. The LNG tank replacement mode launched by CIMC ENRIC is aimed at solving a series of constraints in LNG filling.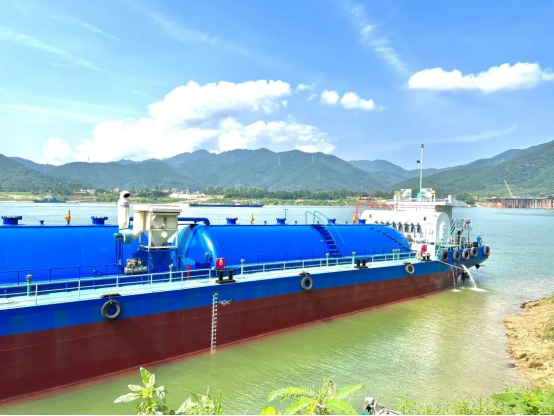 September 2022, CIMC's "Gasification of Xijiang" project achieved major results, and the first LNG powered ship in the first batch of 20 newly built LNG-powered cement tank ships-----"CIMC Runqing 107", was successfully delivered. This project is of great significance for accelerating the green development of China's inland waterway shipping. In order to meet the refueling needs of the large-scale development of LNG-powered ships in the future, CIMC ENRIC, from the perspective of industry needs, closely follows the pace of "gasification of Xijiang", relying on the Xijiang cement transport tank ship project, independently develops and designs the 20-foot movable LNG tank container under the tank replacement mode and the cold box of the split gas supply system, promote the operation and development of inland river green shipping business.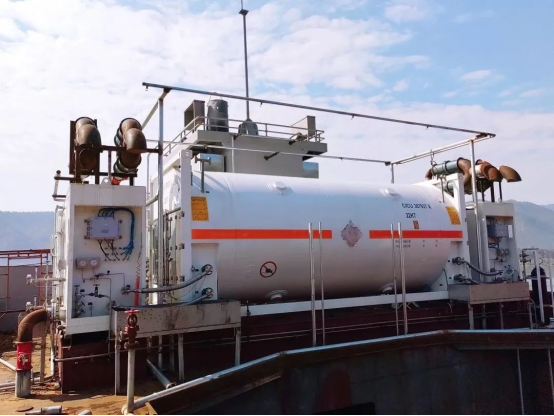 Installation scene of LNG marine fuel tank
Jiang Pingan, deputy general manager and chief engineer of Nantong Energy, a member company of CIMC ENRIC, said that as a pioneer in domestic green shipping solutions, Nantong Energy has been committed to promoting the application of inland LNG ship business, and has joined hands with many industry partners to solve customer problems: Difficult filling, slow filling and other issues, consolidate the leading market position in the field of clean energy equipment. He asked the project team to concentrate on carrying out subject research in an orderly manner, overcome and master core technologies in key areas, firmly grasp the initiative of competition and development, lead the new direction of industry development, and jointly promote the innovation of ship LNG filling models with the other partners in the industry, achieve results as soon as possible.
Looking forward to the future, CIMC ENRIC will continue to increase investment in research and development in the demonstration and application of the tank replacement model to realize the technology Innovation, forming an industry demonstration effect, accelerating the innovation of ship LNG filling mode, and helping the green, low-carbon and high-quality development of the inland waterway shipping industry.