As a top contender for the fuel of the future, ammonia is widely regarded as a zero-carbon marine fuel with significant advantages such as ease of storage and transportation, high energy density, a well-established industrial base and low production costs.
In addition, ammonia can be used as a solid oxide fuel cell, alkaline fuel cell, and alkaline membrane fuel cell. Combining proven fuel cell technology with catalysts, ammonia fuel creates a power density similar to that of hydrogen fuel at the same temperature. It is also considered to be an ideal fuel to replace hydrogen in fuel cells.
According to the International Energy Agency (IEA), ammonia will account for 46% of marine fuel use by 2050, compared to 8% in 2030. It is also expected to overtake hydrogen, which is projected to account for 16% of marine fuels by 2050.
The Fratelli Cosulich Group is an internationally renowned giant in shipping, freight and logistics, with activities covering all relevant areas of the shipping industry. Last November Fratelli Cosulich signed a joint development project agreement with RINA and SeaTech to develop a combined ammonia-fuelled vessel. Under the agreement, SeaTech will focus on the development and design of the vessel concept, while RINA will verify compliance with the requirements of the application rules, particularly those relating to the handling of ammonia. Fratelli Cosulich will be responsible for providing operational data to support and verify the suitability of the vessel design for commercial operation.
And CIMC ENRIC announced the signing of a Memorandum of Understanding (MOU) with Fratelli Cosulich Bunkers of Singapore, part of the international shipping giant Fratelli Cosulich Group, to build an ammonia bunkering vessel.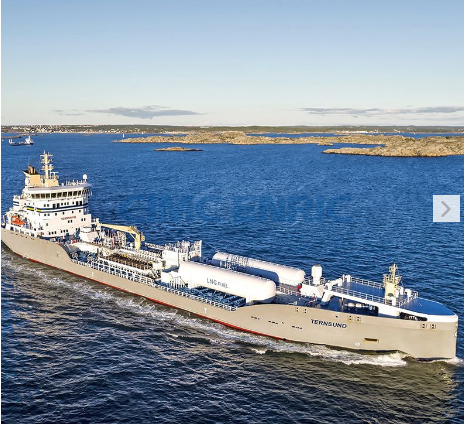 Mr Gao Wenbao, Deputy General Manager of CIMC ENRIC and General Manager of CIMC Guozhou, said: "For the shipping industry, the choice of fuel for our vessels is an important deciding factor. Looking at the many options currently on the market, four fuels - hydrogen, ammonia, LNG and methanol - all have the potential to be the fuel of choice for shipping vessels in large-scale use. The shipping industry is responsible for approximately 3% of global CO2 emissions. If early tests of ammonia or other alternative fuels prove their scalability, these new technologies will begin to facilitate the shipping industry's transition away from fossil fuels, which will help reduce the carbon emissions that contribute to climate change. As a market leader in the small and medium-sized carrier segment, CIMC is deeply involved in the transportation and bunkering of various alternative fuels, such as ammonia and methanol, which will contribute to the decarbonisation of the global shipping industry."