CIMC Enric successfully developed China's first
Cryogenic anhydrous ammonia carrier and achieved batch delivery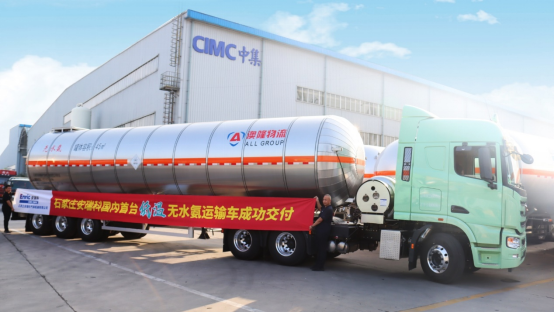 CIMC Enric (Hong Kong stock code: 3899.HK) were pleased to announce its subsidiary, Shijiazhuang Enric Gas Equipment Co., Ltd. ("Shijiazhuang Enric"), has developed and produced the first Cryogenic anhydrous ammonia carrier in China, which was successfully rolled out of the production line and achieved batch delivery.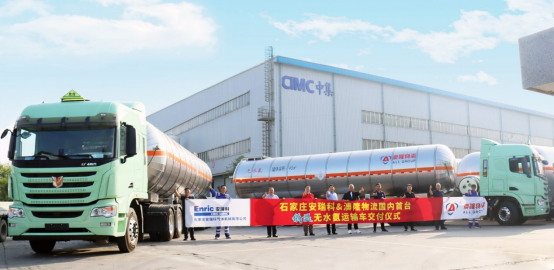 Cryogenic anhydrous ammonia carrier realises the transformation of anhydrous ammonia transport from medium-pressure to low-temperature transport, a pioneer inpioneering the domestic anhydrous ammonia operation mode. The novel carrier boasts improved safety, transport efficiency, environmental protection, and applicability. It also adopts a specially designed storage and transport system that can effectively control the temperature and pressure of ammonia and reduce the risk of accidents and leakage. It can liquefy ammonia at relatively low temperatures, significantly reducing the volume of ammonia and improving transport efficiency. Concurrently, it can substantially reduce the energy loss caused by the cooling device when unloading liquids, enhance the loading and unloading efficiency, reduce carbon emissions and transport costs, , and is applicable inapply to more scenarios.
Ammonia (NH₃), an important basic chemical raw material and hydrogen carrier for the national economy and people's livelihood, is widely used in fertiliser, environmental protection, refrigeration, and industry , among other fieldss. Ammonia is a carbon-free fuel that is convertible to hydrogen and vice versa, essential in realising the strategic goal of "Carbon Peak and Carbon Neutrality". As an efficient hydrogen storage medium, ammonia has the advantages of high energy density, easy liquefaction, high safety and zero carbon emission, etc. It can be a carrier of hydrogen energy to greatly reduce the cost of hydrogen storage and transport, and can also be used as a direct or indirect carbon-free fuel, making it one of the important technical routes to realise zero-carbon fuel. In addition to being used as a carrier for transporting hydrogen, ammonia can also be used directly as a fuel, with the advantages of easy storage and transport, zero carbon emissions, and high thermal efficiency.
As the world's largest producer and consumer of ammonia, China is actively investing in hydrogen-ammonia linkage. Data from China Energy News revealed that in 2022 there were revealed over 20 projects related to hydrogen-ammonia integration in China, with a total investment of nearly RMB150 billion and an annual green ammonia production capacity of over 2.6 million tons. Ammonia-hydrogen linkage can shatter the barriers between the chemical and power industries and realise the effective electricity-hydrogen-ammonia industry linkage. The combination model of green hydrogen x green ammonia is flourishing and favoured by institutions , with KPMG expected the global green ammonia market size to reach USD5.48 billion in 2030, with a CAGR of up to 74.8% in releasing its Green Ammonia Industry Overview and Outlook released in December 2022., expecting the global green ammonia market size to reach US$5.48 billion in 2030, with a CAGR of up to 74.8%.
CIMC Enric found that the current transport of anhydrous ammonia centres around medium-pressure tanker trucks. To meet the market demand of different application scenarios, the Company has successfully developed China's first Cryogenic anhydrous ammonia carrier, creating a new storage and transport mode of "green ammonia - green hydrogen". The R&D and delivery of this new type of storage and transport equipment will provide a new direction and equipment guarantee for China's whole chain "ammonia-hydrogen" green carbon circular economy route, namely a unique opportunity for China's "clean and efficient ammonia synthesis - safe and low-cost storage and transport of ammonia - carbon-free and efficient ammonia and hydrogen utilisation of the whole chain of "ammonia-hydrogen". It will provide a new direction and equipment guarantee for realising China's green carbon cycle economic route.
The Executive Director and President of CIMC Enric, Mr. Yang Xiaohu, stated, "The successful R&D of low temperature anhydrous ammonia carrier is of great significance to the reduction of storage and transport costs and wider application of "green ammonia and hydrogen". The first Cryogenic anhydrous ammonia carrier developed by the Company was successfully launched and delivered in batch, which will further consolidate CIMC Enric's position as a champion in the liquid ammonia transport equipment industry. The Company will provide safer, more efficient, low-carbon and reliable high-quality equipment and services for the logistics and energy industries, and help China realise the "double-carbon" goal and practise the new concept of green development. We will also continue to lead the industry market to achieve healthy development by upholding our core values and actively empowering innovative productivity in the field of hydrogen, electronic gas, natural gas and chemical liquefied gas storage and transportation equipment, and continue to lead the industry market to achieve healthy development."