CIMC Enric Supplies Bulk Liquid Helium Tank Containers to Jinhong Gas
Strategic Partnership for One-Stop Helium Transportation Solutions
(18 May 2023, Hong Kong) — CIMC Enric Holdings Limited ("CIMC Enric") and its subsidiaries (collectively, the "Company") (Hong Kong stock code: 3899.HK) announced that its subsidiary, CIMC Enric Energy Equipment (Suzhou) Co., Ltd. has entered into a strategic cooperation framework agreement with Jinhong Gas Co., Ltd. ("Jinhong Gas"). The agreement will see the two parties collaborate on the development of a one-stop solution for helium transportation, as well as exploring market cooperation opportunities in the liquid helium industry chain. Jinhong Gas will purchase liquid helium tanks containers in bulk from the Company for the storage, transportation, and distribution of liquid helium. The Company will also provide Jinhong Gas with comprehensive after-sales services, including but not limited to technical support and emergency assistance for the liquid helium tank containers at the same time.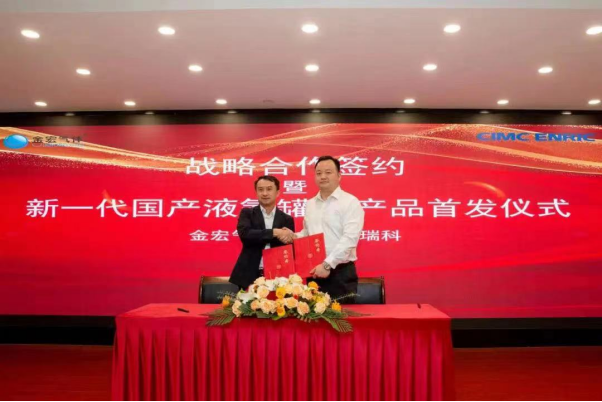 Helium is widely used in fields such as aerospace, semiconductor, advanced scientific research, high-end manufacturing and medicine, it is one of the indispensable rare strategic materials for the development of high-technology industries. However, China lacks significant helium resources and currently more than 95% of helium is imported. According to data from Sublime China Information, China has imported a total of about 4,010 tons of helium in 2022.
Due to the high storage density per unit volume of liquid helium, the international helium market mainly transports and sells it in liquid form. The liquid helium container seamlessly connects the filling, onshore transportation, offshore transportation, storage and distribution, allowing for lossless transportation of liquid helium. It has the advantages of long-term lossless storage, high reliability and flexibility, making it the most widely used and primary carrier for liquid helium storage and transportation in the world. The Company had already developed the first domestic liquid helium tank container in 2022, filling the technological gap in the relevant fields. The second-generation liquid helium tank container signed in this agreement further innovates and upgrades the structure optimization and insulation system design, with product standards reaching the technical indicators of the United States and German and are among the top-tier globally.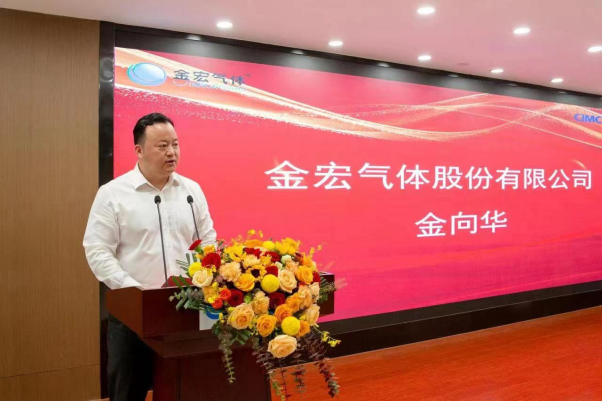 Jinhong Gas, an integrated gas provider specializing in gas research and development, production, sales and services, has been deploying the entire industry chain for purchasing liquid helium tank containers and directly filling liquid helium from abroad since 2020. With the signing of this strategic cooperation framework agreement, the two parties will establish a mechanism for in-depth communication and exchange, fully leveraging their respective strengths and creating a more comprehensive one-stop helium import industry chain. This partnership is expected to help promote domestic helium self-sufficiency, break the monopoly of foreign capital and accelerate the localization of helium resources.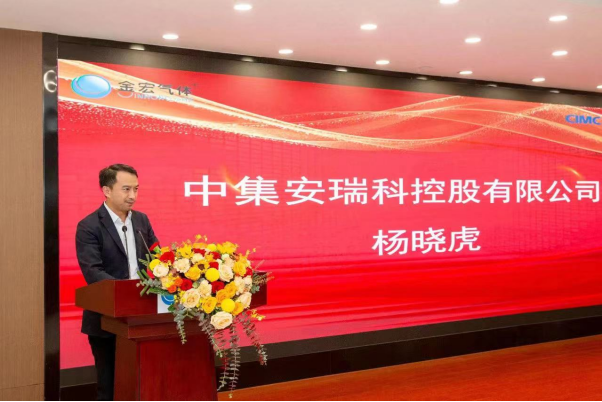 CIMC Enric Executive Director and President, Mr. Yang Xiaohu said, "Helium has irreplaceable applications in various industries and is a scarce and essential resource. Liquid helium tank containers are the 'Mount Everest' of the cryogenic storage and transportation equipment industry, with a super low temperature close to absolute 'Zero', making it an industry bottleneck domestically. Due to the limited global helium supply since last year, China has experienced high helium prices. We are one of the few manufacturers that have batch delivery capability of liquid helium tank containers in the industry, and Jinhong Gas has rich experience in gas production and application, as well as quality management and technical service capabilities, it's a great opportunity for both side to join forces to maximize our synergies and create a more complete one-stop helium supply solution, ensuring stable domestic helium supply. In the future, CIMC Enric will further leverage our own technological advantages to contribute to the high-end manufacturing of cryogenic storage and transportation equipment in the liquid helium and liquid hydrogen industry chain vertical development."
Jinhong Gas Chairman and General Manager, Mr. Jin Xianghua said, "There is an obvious contradiction between the demand for helium in China's economic development and the lack of domestic helium resources. This urgent situation is why we are determined to lay out the helium industry. Since 2020, we have started to purchase liquid helium tank containers and directly fill liquid helium from abroad. This action marks that Jinhong Gas has opened a new chapter in the industry of 'helium storage' and 'helium transportation'. CIMC Enric is a leading integrated service provider and key equipment manufacturer in the industry. We are delighted to corporate with our partner and firmly believe that the two parties will establish long-term cooperation and jointly explore market opportunities in the liquid helium industry chain, so as to break the monopoly of international industrial resources and promote national economic development."
- Ends -
About CIMC Enric Holdings Limited
Founded in 2004, CIMC Enric Holdings Limited has been listed on the Stock Exchange of Hong Kong since 2005. The Company is affiliated to China International Marine Vessel (Group) Ltd. ("CIMC") and is principally engaged in transportation, storage and processing equipment that is widely used for the clean energy, chemical and environmental and liquid food industries. CIMC Enric has been a leading integrated service provider and key equipment manufacturer in the industry. The Company is among the world's top players in both production and sales of ISO liquid tanks as well as high-pressure gas storage and transport vehicles. It is among China's top players in the market of cryogenic transport vehicles and cryogenic storage tanks and one of the top three in terms of domestic market shares for large storage tanks for LNG receiving stations, modular products for LNG refueling stations. CIMC Enric has built a global marketing network and owns over 20 subsidiaries located in China, the Netherlands, Germany, Belgium, United Kingdom and Canada that operate production bases and internationally advanced R&D centers.