Shapes
CIMC ENRIC LPG Storage Tank ranges from determining the distance requirements for each tank to determining the right space conditions for storage. You should also consider whether you want to store them vertically or horizontally. Before handling or even distributing LPG storage tanks, you must first obtain approval from the regulatory authorities. They must ensure that the facility where you intend to store the tanks is large enough to accommodate the capacity you need. You must also have a minimum workforce to manage the facility in the event of a fire, on-site fire extinguishers, etc.
There are two basic types of above-ground propane LPG tanks: horizontal tanks and vertical tanks. Horizontal propane tanks (sometimes called "torpedo tanks") are large-capacity containers typically used where propane is the main source of heat in the home. Their increased storage capacity can limit the need for propane delivery in winter, which can help in areas where the weather is unpredictable.
CIMC ENRIC produces LPG storage tanks, mainly horizontal, for large commercial and industrial storage and transport
CIMC ENRIC is a leading company in specialty gas storage and transportation equipment in China and can supply you with the best quality lpg tanks to meet the requirements of each country. We will guide you in your local compliance with storage regulations to ensure maximum product safety.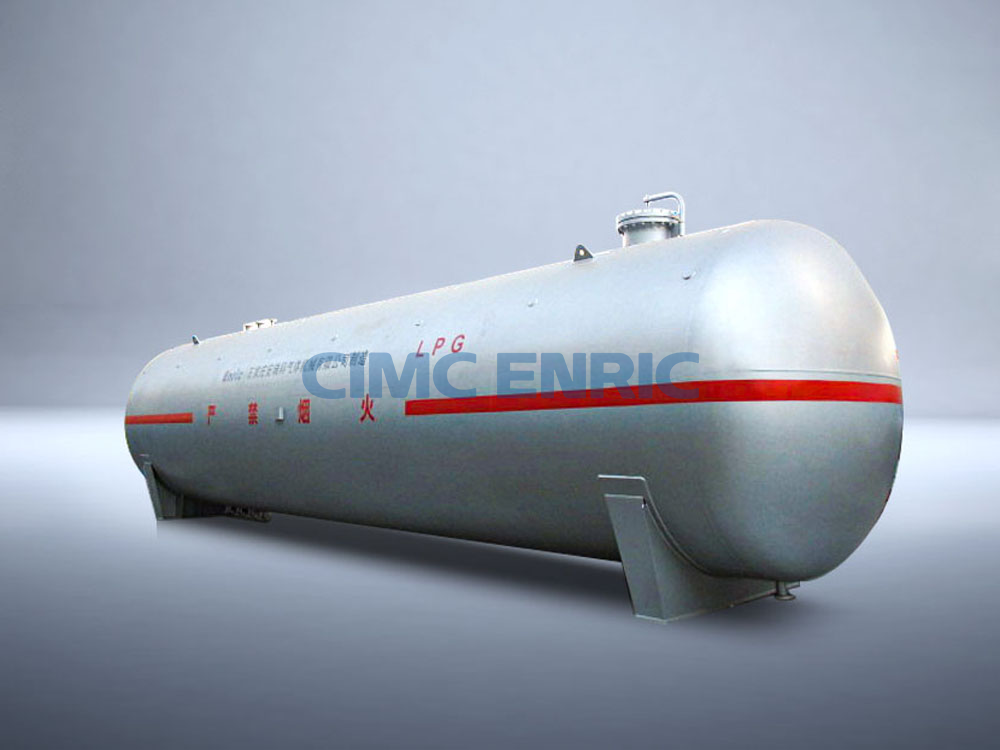 Certifications
What certifications do we own?
We have professional design and manufacturing qualifications of Chinese A2, A3, C2, SAD and American ASME U/ U2
Main functions
Key Features
The main material is low-alloy steel plates for pressure vessels, the valve accessories are selected from famous brands in the industry, professional design and manufacturing team, perfect quality assurance system, the existing series volume from 10m³~400m³, can be customized according to customer needs.
What is the purpose of the LPG Storage Tank?
This LPG Storage Tank is a special tank container (excluding external pipes) for storing liquefied petroleum gas. It can be equipped with special safety accessories and loading and unloading accessories according to customer needs.
What benefits will you get from LPG Storage Tank?
Customers can safely store LPG with this tank.
Use
Where can this LPG Storage Tank be used?
This LPG Storage Tank can be used in areas where the ambient temperature is -40℃~50℃.
Who might use this LPG Storage Tank?
LPG trading companies, gas station operators and large petrochemical companies are potential customers of this product.
Use range
It is suitable for mixing liquefied petroleum gas, propane, commercial propane, commercial propane butane mixture, propylene, anhydrous ammonia and other C4 mediums.
Some common uses of the LPG Storage Tank?
Long-term storage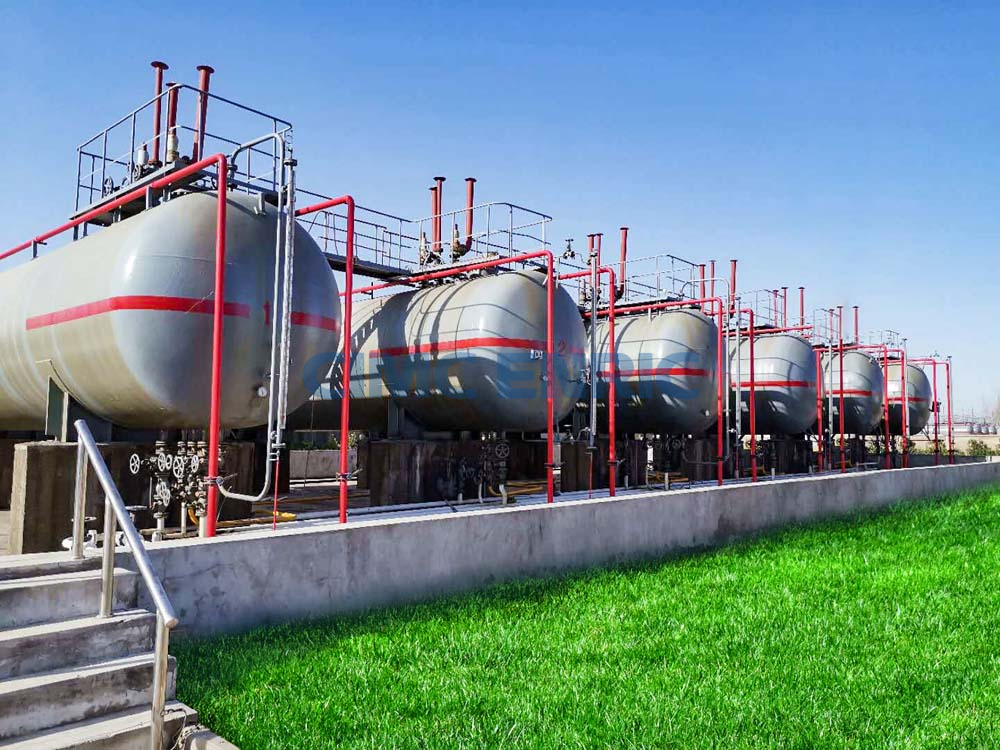 Advantages
Primary advantages
Safe and reliable, large volume, high loading capacity.
Why should I buy this product?
Forty years of professional design and manufacturing experience, reliable quality and service guarantee.
What makes this product different to competitor products?
High cost performance, quality assurance, high responsibility and perfect after-sales service system.
Our service
Our Policy
cimc enric has the design & fabrication capacity of LPG stationary storage tanks including above-ground tanks, underground tanks and mounded tanks etc. All kinds of tanks could be customized according to the customers' requirements.
Unique deliveries
EXW/FOB/CFR/CIF/DAP
Shipped by Bulk or Container vessel
Warranty information
One year warranty after delivery
Payment method
What payment method do we have?
T/T,L/C
Export cases
Main markets
Asia,Southeast Asia,Africa,South America ,North America
Product specifications
Technical parameters
I. Chinese GB Standard
Water Capacity
Inner Diameter
Overall Length
Height
Weight
Payload(90% Filling Ratio)
Thickness
Shell
Heads
10m³
1600mm
5300mm
2370mm
3400kg
4035kg
8.53mm
8.51mm
12m³
1600mm
6300mm
2370mm
3800kg
4850kg
20m³
2200mm
5680mm
2970mm
5150kg
8070kg
11.35mm
11.33mm
25m³
2200mm
7000mm
2970mm
6000kg
10090kg
32m³
2200mm
8850mm
2970mm
7200kg
12920kg
40m³
2470mm
8843mm
3240mm
8780kg
16410kg
12.62mm
12.59mm
50m³
2470mm
10903mm
3240mm
10420kg
20180kg
63m³
2470mm
13623mm
3240mm
12600kg
25420kg
80m³
3100mm
11170mm
3800mm
16700kg
32280kg
15.58mm
15.87mm
100m³
3100mm
13850mm
3800mm
20000kg
40350kg
150m³
3400mm
17140mm
4104mm
29800kg
60500kg
17.35mm
17.31mm
200m³
3800mm
18324mm
4560mm
40100kg
80700kg
19.27mm
19.22mm
Main Material
Q345R
Design Pressure
1.61MPa
Hydraulic Test Pressure
2.22MPa
Working Pressure
≤1.61MPa
Corrosion Allowance
1.0mm
Design Temperature
-20/50℃
Life Expectancy
20 years
Working Temperature
-20/50℃
Notes: Above existing design capacities for you to choose from. If you have any other different requirements, we could also provide you with customized design.
II. ASME Standard
Water Capacity
Inner Diameter
Overall Length
Height
Weight
Payload(85% Filling Ratio)
Thickness
Shell
Heads
10m³
1600mm
5308mm
2440mm
3850kg
4630kg
11.09mm
11.02mm
12m³
1600mm
6308mm
2440mm
4340kg
5560kg
20m³
2200mm
5690mm
3050mm
6920kg
9260kg
14.86mm
14.78mm
25m³
2200mm
7010mm
3050mm
8100kg
11580kg
32m³
2200mm
8860mm
3050mm
9750kg
14820kg
40m³
2470mm
8851mm
3320mm
11930kg
18530kg
16.56mm
16.47mm
50m³
2470mm
10911mm
3320mm
15420kg
25470kg
60m³
2470mm
13001mm
3320mm
16600kg
27790kg
80m³
3100mm
11178mm
3960mm
22820kg
37060kg
20.53mm
20.41mm
100m³
3100mm
13858mm
3960mm
27430kg
46320kg
Main Material
SA-516 Gr.70
Design Pressure
1.724MPa
Hydraulic Test Pressure
2.25MPa
Working Pressure
≤1.724MPa
Corrosion Allowance
1.0mm
Design Temperature
50℃
Specific Gravity
0.545@15℃
Working Temperature
-20/50℃
Notes: Above existing design capacities for you to choose from. If you have any other different requirements, we could also provide you with customized design.
Components
Package included
Nude Packing
Accessories or Parts
Accessories or Parts will be packed in Steel or Wooden Cases if needed.
FAQ:
How to store LPG
LPG is designed to maximise its storage opportunities, as 1 litre of LPG has been shown to be as effective as 270 litres of natural gas.
However, in order for it to liquefy, it must withstand specific cooling and pressure conditions, which must also be maintained during its storage (and potential transportation). The use of LPG tanks and other alternatives, such as LPG cylinders, LPG bulk tanks, underground LPG tanks or small LPG tanks, can solve this problem.
Flat-bottomed cryogenic storage tanks are one of the most efficient ways to store LPG, with capacities ranging from 1,000 to 30,000 cubic metres.
When considering LPG tanks, a number of risks must be considered.
There is a risk of explosion
There is also a risk of asphyxiation due to LPG leaks
It is a highly flammable substance
In its liquefied state, contact with LPG can cause severe burns
How to choose a storage tank
Tank material selection: LPG storage tanks are manufactured from standard strength pressure vessel special steel plates because they need to meet low temperature and high pressure storage requirements
Quality control points in the process: advanced automatic ring welding equipment ensures stable weld joints and even and smooth surface joints to ensure the safety of LPG storage tanks
Valve fittings and flange selection: high quality and sealing of valve fittings such as well covers, safety valves, manual venting valves, thermometers and level gauges
Tank painting: tank sanding and rust removal, spraying anti-rust paint, hanging ion paint, and finally brushing primer and topcoat these steps. No paint loss and no fading is one of the conditions to test the durability
Emergency arrangements: The supplier's emergency telephone number will be printed on the LPG tank and should be dialled in the event of a leak.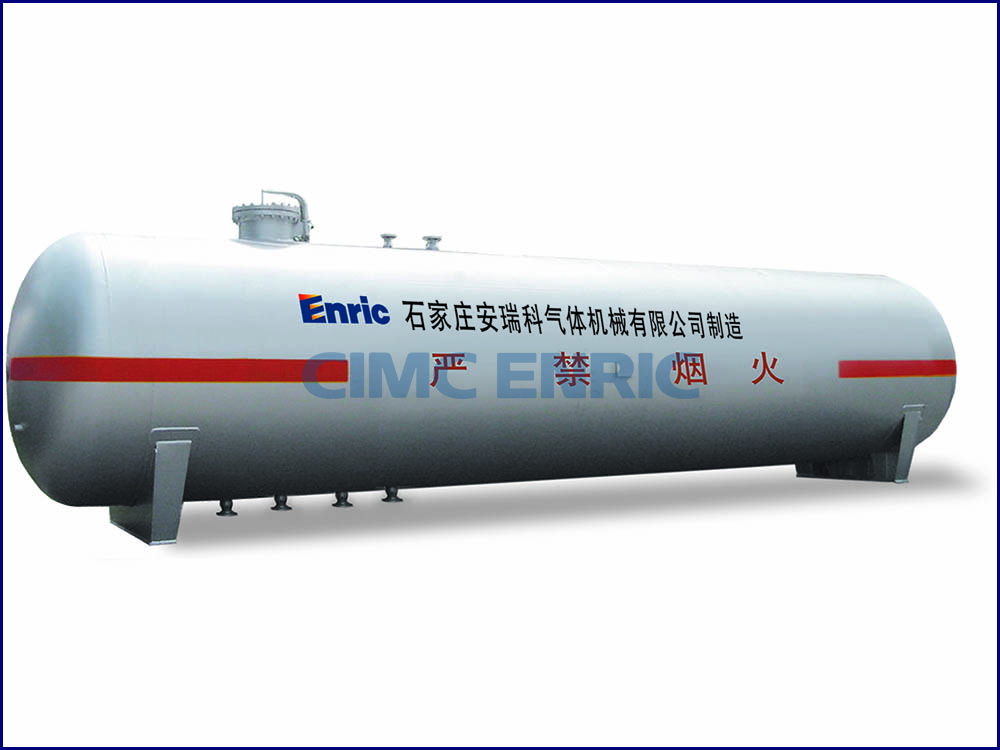 When using LPG tanks, the following safety measures are recommended.
It is recommended that LPG bulk tanks are installed in well-ventilated or outdoor areas and at ground level. Mechanical ventilation systems should be considered to ensure that fresh air is provided.
LPG tanks must be protected from any source of ignition or heat and be fire rated. Combustible materials should also be kept away from LPG tanks, as well as anything that may generate static electricity.
These units should be kept away from incompatible substances and the use of barrier systems (e.g. screen walls made of non-combustible materials) should be considered.
The use of alarm systems and air quality testing to monitor potential LPG leaks is recommended.
When operating LPG tanks, staff must wear adequate personal protective equipment to avoid freezing burns and other hazards.
A proper maintenance schedule must be ensured to avoid tank bursts and other safety issues.
Pressure-reducing valves are a common accessory for LP gas cylinders. These can help relieve pressure to prevent pressure build-up from endangering the system.
The engineering team responsible for the design and implementation of LP gas tanks must comply with the required national and international legislation and quality protocols.
LPG tanks must be stored vertically with the valves closed. The use of appropriate restraint methods, including chains or safety belts, must also be considered.
These storage solutions must also maintain all necessary documentation documenting the safety measures taken, as well as all documentation relating to hazardous materials protocols.
Siting of the tank
There should be a minimum separation distance (called spacing distance) between the tank and any building, boundary line or fixed source of ignition. This should have been checked when the tank was installed, if you are not sure, please consult us and we will help you with the installation plan and service.
Ventilation and surroundings of the tank: In the event of a leak, there should be enough space around the tank to allow sufficient air movement so that heavier-than-air LPG vapour does not form.
Shock protection: If possible, the tank (and its accompanying pipework) should be placed away from areas of high pedestrian traffic. If this is not possible, protection from motor vehicle impact on the tank is required, e.g. crash barriers or bollards.
CIMC Enric LPG Storage Tank
CIMC Enric - A leading supplier and manufacturer of storage and process containers, specializing in NGL and LPG/propane, butane and anhydrous ammonia/NH3 bullet tanks and associated equipment. We also offer the most comprehensive range of related equipment including LPG and NH3 pumps, compressors, valves, liquid transfer and metering systems, evaporators, mixing systems and much more. If you can't find the tank or equipment you're looking for, we'll find it for you - and deliver it at a competitive price. We also offer storage solutions for LPG (liquefied petroleum gas), propane, butane, pentane, ammonia, anhydrous ammonia and other gaseous products. We have the experience, capability and flexibility to provide a reliable solution for your customized storage container application.
CIMC ENRIC designs and manufactures storage tanks for all phases of oil and gas processing and production. We offer ASME certified storage solutions for LPG (propane), LNG (methane), NGL (including ethane, propane, butane, pentane and isobutane) and other gaseous products, with custom tanks and pressurised vessels ranging in capacity (up to 50,000 gallons).
We are a self-performing, turnkey solution provider for LPG storage tanks, manufactured to your exact specifications and to the highest quality standards. All work, including assembly, welding, painting and coating, is carried out by skilled craftsmen. We handle and perform all aspects and services associated with LPG, LNG and NGL tank fabrication projects while following strict quality controls in design, materials, fabrication, welding, inspection and testing. We assist you in equipping your premises with LPG tanks, dispensing equipment and the necessary hardware to comply with gas pumping and dispensing equipment regulations. We are obsessed with quality. We source commercial gas pumps and dispensing equipment for high volume applications from associated European and American companies, and our LPG tanks and dispensing equipment for high volume applications are designed to meet European standards.
CIMC ENRIC offers skid-mounted, modular storage and pressurised tank systems for all your storage vessel needs with cost and time saving benefits. We can design, engineer, manufacture and install your next LPG storage tank as an addition to an existing processing plant or as part of a fully integrated, modular oil and gas processing plant or refinery.
Choose safety and quality when you choose CIMC ENRIC LPG storage tanks